Living Edge Interiors are delighted to offer Auckland based interior design services. It is like one stop shopping without the stress and hassles.

 Shanly was trained by the famous Beverly Hills based International Interior Designer Faye Resnick with such clients as Paris and Nicky Hilton, Kyle Umansky (Beverly Hills Housewives ), Ceasars and Palms Hotel Las Vegas, and the list goes on.

Shanly returned to NZ from overseas bringing with her over 14 yrs experience in International Interior design. With a very warm presence but a strong professional passion for design, she takes great pride in helping her clients bring their vision for their home into reality.
You'll be in expert hands. Shanly's experience and ability covers every aspect of interior design. Shanly offers a 3 hour consultation package, including driving time (within Auckland) for $450 + gst. Shanly's fast and efficient service makes her fees very competitive indeed. Consultation times can be flexible to work in with clients' needs.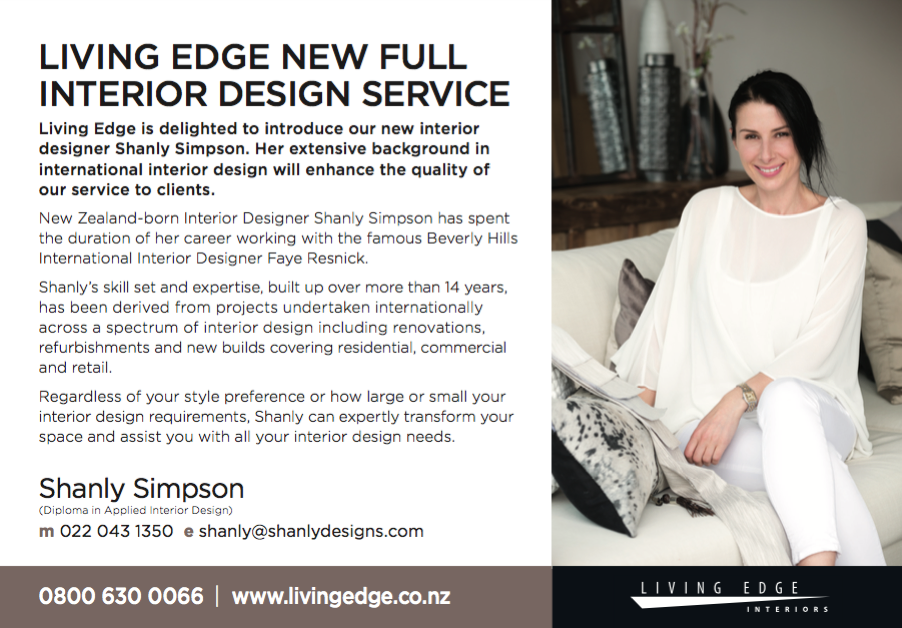 Living Edge also offers a free measure and quote service for both residential and commercial properties. We take pride in our work and offer exceptional quality and competitive pricing to cater to our clients needs. This is a field we know very well. Shanly will guide and work with you to help you through the selection process of styles and fabric choices that will work with the Interior Design and budget of your home.
Contact her today to discuss your needs and to obtain a personalised quote for the services you require. Please use Shanly as the email title and email her on [email protected]