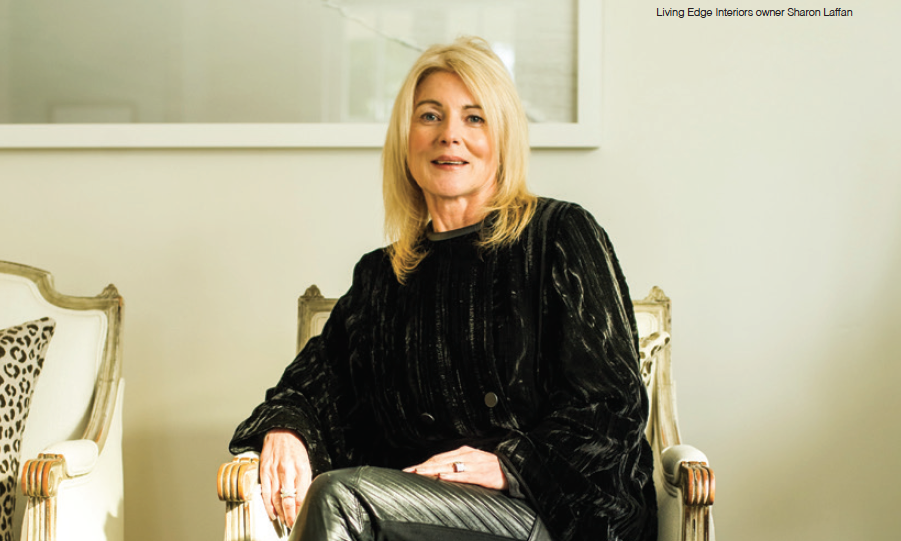 Interior Design, Living Edge News, Staging Blog
Homestaging company Living Edge Interiors is creating a niche in the top-end housing market. Guided by its passionate new owner Sharon Laffan, the company has grown, solidified its position and extended its offering in exciting new directions.
Have you ever walked into an open home, fallen in love with the interior furnishings and marveled at the owner's sense of style? Chances are, the furniture and accessories you covet don't belong to the owner at all, but instead have been carefully selected by a homestaging company to create just the reaction you experienced.
With the booming Kiwi housing market, homestaging is on the rise. Agents and sellers now understand its value in enhancing the visual appeal of a property, says Sharon Laffan.
She's seen the company grow from humble beginnings 16 years ago to become the country's largest homestaging business.
Over more than a decade, Sharon has helped shape the development and growth of Living Edge. She's been heavily involved in the buying of merchandise, as General Manager. So when the company came up for sale in 2014, the opportunity was too good to miss.
"I'm extremely passionate about the business and our goal to be the absolute benchmark in the industry," she says. "When we first started, there was only one other company operating in this space; now we're competing against 30 companies in Auckland."
Today, Living Edge has 20 staff, including a team of interior designers, its own fleet of vehicles and warehouse space. The bulk of the company's furniture is sourced from overseas, with up to 5 containers of stock a year being brought in as a result of Sharon's buying trips.
With a background in retail and merchandising, Sharon has developed longstanding relationships with real estate agents and developers. They make up a large chunk of the company's clients, along with aged-care providers, private residential owners and corporate clients, and the entertainment industry.
"Our furniture is unique and we have several different styles, all branded with our own label," she says. "We're focused on the high end of the market. We do a lot of properties in the $2 million plus range."
Homestaging is a labour-intensive enterprise, with each property requiring 12-15 hours to complete from initial sales to selection of furniture and then installation. Living Edge has sought to extend its offering with complementary services. The company hires out furniture and supplies cutlery, towels and bed linen to CEOs relocating to New Zealand. It provides set furnishings for TV shows like Masterchef, My Kitchen Rules and X-Factor. Living Edge has also furnished backstage sets for visiting rock stars, celebrity weddings and private parties, where security and confidentiality are paramount.
"We've experienced exceptional growth over the last four years," says Sharon. "It's been the result of a conscious effort to grow in the wider Auckland area. We also now sell our own branded furniture on our website. Our mid- to long-term plans are to increase the output of show homes and launch online shopping via our website."
When looking to purchase Living Edge, Sharon sought advice from Hayes Knight Director Brendon Cutler who carried out a valuation and prepared financial forecasts to enable her to obtain the necessary finance. The firm now acts as financial and tax advisor for the company, producing Living Edge's annual accounts and tax returns, meeting regularly and providing a sounding-board for any decision-making.
"Brendon has been a great mentor and financial advisor, particularly during the sale and purchase process," says Sharon. "He's pragmatic, highly responsive, and has developed a good understanding of the business."
Brendon believes Sharon's focus, coupled with her willingness to work hard, set goals and move forward with increased confidence, has taken Living Edge to a new level.
"Sharon should be really proud of what she's achieved," he says. "She's done a great job to grow the company faster and more profitably than we forecast, while at the same time managing that growth conservatively. Sharon has a good business brain and listens to advice. I've no doubt Living Edge will continue to grow and refine its offering."
WORDS: Deirdre Coleman IMAGES: Jason Dorday
Publication: Beyond The Numbers by Haynes Knight