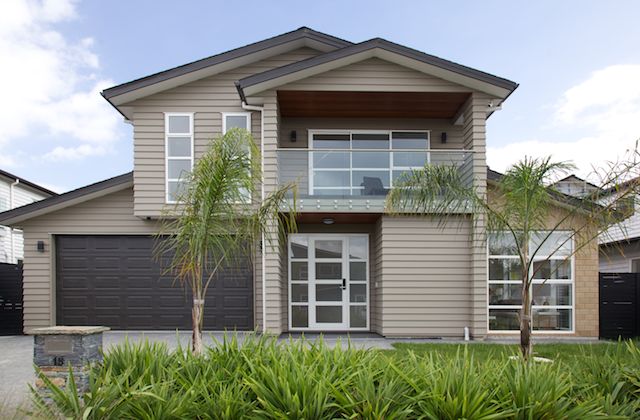 New Homes
With its expansive living spaces and sheltered garden, this home is a great place for a family
Before setting off to buy a new home it's often a good idea to draw up a wish list. Some aspects of it will be practical and fairly easy to achieve and other items may be harder to find.
At Long Bay, new homes such as the house featured on these pages are designed with young families in mind. This home has a sunny north-facing aspect across the wetlands and towards the sea.
On the ground level the house has plenty of living space, with the formal lounge at the front overlooking the streetscape. This area integrates seamlessly with the kitchen, dining and family room, making a space that's equally ideal for family activities and for entertaining groups of friends.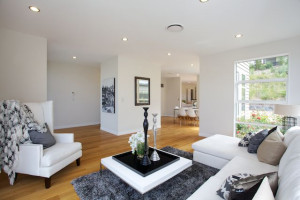 The casual living spaces then flow out through French doors onto a sheltered and private terrace at the back of the house. Oriented to face the north and west, this terrace catches the sun for most of the day and in the early evening. A guest bathroom downstairs draws a line between public and private spaces.
Upstairs are three bedrooms and a family bathroom, plus a master suite with its own ensuite and walk-in wardrobe.
Polished floorboards and a color scheme in shades of white enhance the feeling of light and spaciousness, and a distinctive personality is introduced through the owners' choice of objets d'art, cushions and rugs.
Weatherboards teamed with windows and front door in a geometric grid give this house a smart, contemporary appearance.
White painted walls and polished wooden floors provide a connection between the formal and informal living areas in this house. Both areas look out onto the terrace and garden.
Wide vertical windows give a good view from the dining table into the garden and ensure plenty of natural light comes into the house.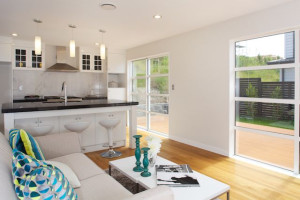 The island benchtop in the kitchen and casual living area makes this space into a gathering point for friends and family.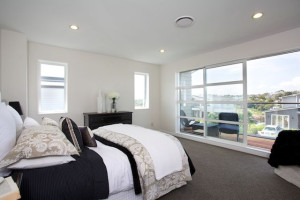 The master suite opens up onto its own balcony, which looks out towards Long Bay. The black, white and taupe color scheme gives the room a crisp, contemporary look.
Designer: Shang Da Wei
Kitchen designer and manufacturer: Gu Bao Kitchen Company
Oven, dishwasher, cooktop, rangehood: Bosch
Flooring: American oak
Wall paint: Dulux
Window and door joinery: Chang Cheng
Furniture: Living Edge
About Long Bay
Just half an hour from the CBD, the development nestles alongside the Long Bay Regional Park. It offers residents the pleasure of living in a spectacular coastal environment within easy distance of all amenities that a world-class city like Auckland has to offer.
Source: Long Bay Trends is published by Trends Publishing International Limited.
Long Bay : www.longbay.co.nz
PHONE: 0800 LONG BAY