Real Estate
While homeowners enjoy capital gains, a nasty rates surprise looms.
The soaring Auckland property market is about to deliver new individual valuations to thousands of homeowners. Some will be hoping for massive capital gains and others fearing the sharp end of spiralling rates bills.
Auckland Council yesterday released broad results from wide geographic areas of 525,000 property valuations, showing percentage changes across local board areas, though individual property revaluations will not be available until November. Values have jumped by 33 per cent on average across the city since individual property valuations were last set in 2011.
One Tree Hill, Royal Oak, Onehunga, Penrose, Mt Wellington, Panmure and Glen Innes recorded the biggest jump with values up by 44 per cent, while Great Barrier Island had the only fall, sliding 12 per cent.
Labour's Auckland issues spokesman, Phil Twyford, said residents facing the biggest revaluation increases could be in for a nasty shock.
He predicted many Aucklanders would be horrified by their new rates bills although the council stressed valuations were only one influencing factor on what people paid.
"It seems likely they're going to be hammered," Mr Twyford said of people in the seven-suburb Auckland area of Maungakiekie-Tamaki.
"After repeated mortgage interest rate rises, now some ratepayers are going to get a nasty surprise in their rates bill.
"This just shows how heated the housing market is, with an average 11 per cent increase in values over three years."
Three years ago, the council revalued 516,000 properties but now Auckland has 525,000 residential properties. Peter McKay, the council's registered valuer, said valuations were based on many factors, including sales.
The Maungakiekie-Tamaki Local Board area's 44 per cent rise was due to a combination of factors.
"It follows the trend of some of those properties in the outer ring of the inner suburbs showing better [valuation] increases than the inner suburbs," he said, citing good rail transport, motorway upgrades in the wider area, accessibility and a concentration of the housing stock.
Great Barrier, which has around 1500 residential properties, was the only area where values fell, down 12 per cent, he said.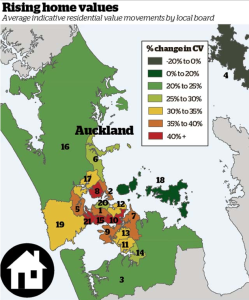 The latest results showed an average 33 per cent rise across the city.
Values for Puketapapa (Three Kings, Hillsborough, Waikowhai, Lynfield and Wesley) rose 41 per cent, the same as values for Whau (New Lynn, Green Bay and Kelston, Rosebank, Waterview, Avondale, New Windsor and Blockhouse Bay).
Mr McKay said Aucklanders would first be able to see the new valuations on November 10 by visiting the council's website. Physical notices would be posted out over a three-day period, he said.
Property owners can object to the new valuations and challenge them via an online objection portal, by downloading an objection form from the council's website or getting a form at a council service centre.
Three years ago, 2.3 per cent of Aucklanders owning 11,500 properties objected, he said. About 80 per cent were offered a new value that was either 20 per cent higher or lower than the original. Twenty per cent were settled outside that range.
In total 111 people took their cases to the Land Valuation Tribunal, but only one case made it to a hearing and it was dismissed by the court, he said. Mr McKay said revaluations didn't impact on the total rates collected "but it's one of the factors that determines an individual property's share".
"The revaluation exercise is used by the council to determine the allocation of rates, and doesn't affect the overall amount of rates collection. Capital value, or CV, used as the rating valuation, is the likely price the property would have sold for on July 1, 2014. Its new value will be used to help set rates for the three-year rating period beginning next year, July 1, 2015," Mr McKay said.
Pros, Cons
Why people want house values up
• Makes them feel richer as their house is often their biggest asset.
• Potentially allows them to get more money when they sell.
• Banks sometimes take CV into account for lending purposes, but require valuations.
Why they want them down
• They fear big rates rises – though rates not solely set on valuations.
• They are on leasehold land and now have to pay more annually.
• They dislike/fear changes in their neighbourhood.
• Auckland has seen 33% average residential value rise since July 2011.
Five other ways rates are set (excluding valuations)
1. Rating policies: Auckland Council has specific rates transition policies that have moved us in stages from the old councils' rating systems to one system over the past three years.
2. The 10-year budget: Over the coming months, councillors will decide the overall funding requirement from rates and the funding mix. About 53 per cent of our income is from rates. The rest is from grants, fees and borrowing.
3. The level of the uniform annual charge: The set amount that every property owner pays, decided by councillors.
4. The level of the business differential: The council applies a rating differential to different groups of ratepayers.
5. Any targeted rates: eg, some South Auckland households have chosen to pay for free swimming pool access for everyone via their rates. [Source: Auckland Council]
North Island revaluations
Far North: 2013 figures, capital values dropped by almost 12%.
Hamilton: 2012, residential capital values rose 0.5%.
Tauranga: 2012, capital values for residential properties flat, apartments dropped.
Rotorua: 2011, almost 12% drop.
Wanganui: 2013, capital values dropped 4.5%.
Two takes on values: Pt Chevalier
On paper Matthew Grant is sitting on a $1.3 million Point Chevalier home, but he feels like one of Auckland's middle-income working poor.
A 51-year-old software sales worker, he bought his three-bedroom 1930s bungalow for $800,000 in 2006. But the suburb has exploded in popularity and the property is now worth an estimated $1.3 million.
"Sure my valuation is up, and that's nice on paper." But he feared Auckland Council would "price me out with exorbitant rates".
When he moved in he was paying about $2300 in rates. That has now jumped to about $3500 and he expects a further rise once the new valuations are in.
One Tree Hill
Tania Marinkovic is selling her two-bedroom house and hoping for a big capital gain. The Rawhiti Rd property has a single-car garage, new kitchen and bathroom, is close to buses and shops, and walking distance from Cornwall Park.
The 51-year-old office administration worker bought the property seven years ago for $385,000. Its current valuation is $430,000 but property values in the area have risen by 44 per cent in the last three years.
"Everything around me goes for probably at least $250,000 more than what the CV is. Ours probably does need to be increased, but the negative of that is does that mean the rates go up considerably?"
Author: Anne Gibson is the Property editor of the NZ Herald