Files showing how a Grey Lynn corner site has been transformed are every bit as impactful as those women's magazines makeovers.
Before, a scrubby section fenced in corrugated iron – and after, a svelte boutique terrace house development.
Developer Murphy McDade is the first to admit this 1041sq m site on the corner of Waima and Monmouth Sts looked a bit like a rough diamond when he bought it 12 years ago.
Murphy says: "It was a bit of an eyesore, really. It had been used as a demolition yard and had an old house on it which had become dilapidated where transients were living."
However Murphy could see potential in the location with views of Mt Eden, being within walking distance to Ponsonby Rd and the central city.
So he sat on the land, using it as a car park until he felt the timing was right.
His company, Toorak Properties, has just released for sale the first two of 16 terrace houses he has built at the address, that are completed and ready to move into.
Waima Terraces are constructed of tilt-slab concrete and block-work accented with cedar and dark vertical aluminium slats.
The secure complex with landscaping by Xanthe White has been conceived to appeal to busy urban professionals, families and downsizers.
Barney Milic designed the final iteration of the terrace houses for Murphy, that were built in three clusters.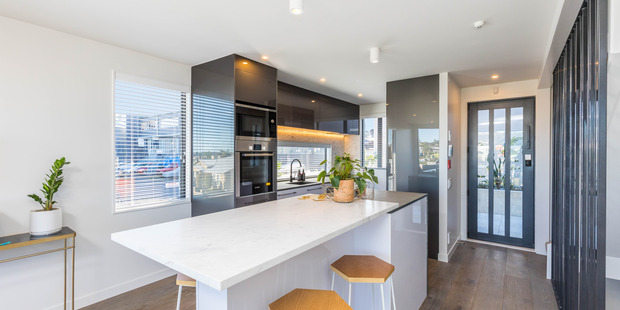 Barney says: "Having three banks of terrace houses breaks them up and creates an interesting space between them; a central pedestrian plaza providing pedestrian access to the units.
"Arranging them in three blocks of different sizes – one with three terrace houses, one with eight and another with five – creates a sense of diversity."
Barney has spent most of his career designing buildings while working from home.
So, as a dedicated fan of home offices he's particularly fond of the layout of the eight three-bedroom, three-bathroom terrace houses which sit along Monmouth St.
In addition to an entrance off the central plaza, each of these has its own private street entrance into a versatile ground floor with bathroom, suitable for a work-from-home set-up. Alternately it can be used as a third bedroom.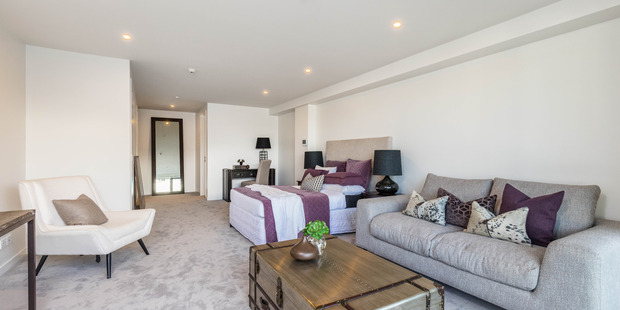 These eight terrace houses fronting Monmouth St spread upwards over four floors, the next one up housing an internal-access double garage with laundry (accessed through the development's main under-building parking area).
French oak floors luxuriate through floor three's open-plan kitchen-dining-living space with balcony, soaking up the views across the city to Mt Eden which are enjoyed from several levels.
Alarti marble features in these kitchens' island bench tops and in their handcrafted mosaic splash-backs.
A suite of Bosch kitchen appliances and a black sink and tap are surrounded by grey slate benchtops in the core kitchen area.
The top floor has two en suited bedrooms; the master with his'n'hers wardrobes and lofty floor-to-ceiling windows embracing the view.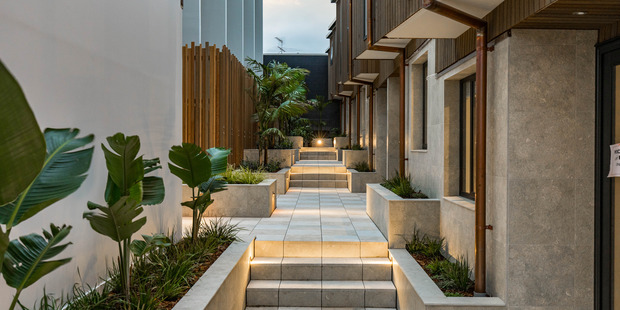 Barney says: "We sloped the ceilings in the master bedrooms upwards for a dynamic feeling, increasing the light and sense of spaciousness."
The layouts of the remaining terrace houses, three facing Waima St and those in another line of five, are largely similar in nature.
Each is spread across three levels and has two carparks allocated in the main secure under-building parking area.
Their floor one is an open-plan kitchen-dining-living level opening either to a balcony above Waima St or to a private deck area.
Two bedrooms flank a bathroom and a separate laundry on floor two.
Uppermost floor three is all master suite with en suited master bedroom, and a sitting-dressing room alongside a customised fit-out for clothing.